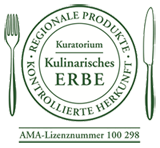 A Tafelspitz is a Tafelspitz and a Wiener Schnitzel a Wiener Schnitzel.
It sounds simple but it is one of the great secrets of the Viennese cuisine: simple, pure, authentic food which tastes just as it should.
One more secret: the Viennese cuisine – by the way, the only one named after a city – has always been multi-faceted and open to influences from other countries and regions.
Recipes from the Crown Lands Bohemia and Hungary have become adopted into the Austrian cuisine, even as eggplant (Melanzani), sponge fingers (Biskotte) or bouillon, ingredients and dishes derived from the Italian and French cuisine. Adhering to original recipes while accepting new trends – that is, uniting tradition with cosmopolitanism – are the two secrets of the Viennese cuisine, to which the Pfarrwirt feels committed. It is a matter of course that all dishes are prepared with fresh and natural ingredients and that the Pfarrwirt renounces the use of meat from factory farming.
Not absolutely necessary, but it nevertheless feels good.